Billy Donovan has done a fantastic job at Florida, you know for a basketball coach at a "football school". Two National Titles and a few other trips to the Sweet 16 and beyond have proved that Donovan knows what he is doing. Coach tends to avoid recruiting one-and-done players (go talk to Calapari for that) and instead focuses on talented players with fantastic work ethics. The '04s bought in to Donovan's philosophies and succeeded, and the 2010-2011 team came together and peaked at the right time nearly making the Final Four. Now Coach has an interesting challenge. He is losing his talented front court from last year: Chandler Parsons, Alex Tyus, and Vernon Macklin are all graduating.  And the Gators have two 2011 commitments: one is SG Bradley Beal and the other is SF Walter Pitchford.  We have been hyping Beal for over 10 months now (see previous post), but there is something Gator Nation should know…Walter Pitchford is coming to Gainesville and he's bringing his versatile game with him.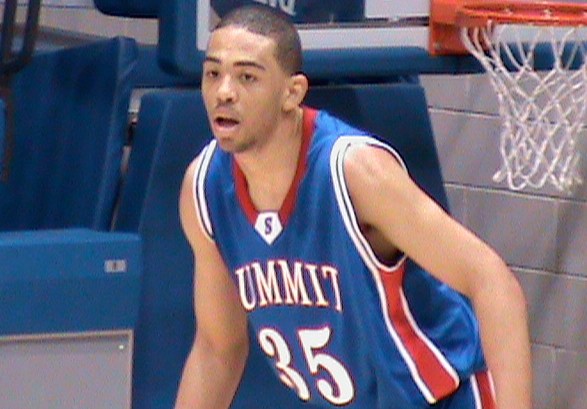 Pitchford is 6 foot 10 inches and a lanky 21olbs.  Bourbon Meyer suggests a semester or two of Gator Dining could do him some good.  Pitchford is from Grand Rapids, Michigan and has legitimately played four different positions in high school. This one minute video alone shows the range of his game. He can play above the rim and has been known to shoot the 3 too. We were lucky to catch up with Pitchford and he was nice enough to answer some questions…
First off, Division I recruiting can be pretty stressful.  You originally signed a national letter of intent with DePaul, but Coach Jerry Wainwright lost his job and you asked and were granted a release. How hard was that decision?
It was extremely hard and tough [decommitting from DePaul] knowing that I had a lot of family in Chicago. But on the other hand, the coach left the program and I felt it was best for me to go.
In December of last year your head coach, Steve Ernst, said in an interview with Inside The Hall that Indiana, Memphis, Arizona St., Washington, Minnesota, and Illinois were the schools showing the most interest. Had Florida been in the mix at that point too? When did Florida really start becoming a serious contender for you?
Yes, and I was involved with other schools as well. Around December 2010, but my first initial contact was with Coach Shyatt about 2 years ago.
A lot has changed since December, Shyatt and a few of the other assistants have departed. Are you excited about the new assistant coaches? And have you spoken with any of them since they were hired?
Yes, I am very excited.   We have all spoken and [I'm] excited about next year.
Many media outlets have speculated that the combination of the starting front court graduating and Erik Murphy and Cody Larson's recent legal issue is what led you to officially commit to Florida? Can you talk about your decision making process and whether the arrests had any weight on your decision to commit officially to Billy Donovan and the Gators?
Only the coach can deal with the legal issues.  I signed before any of that [really] happened.
You seem really enthusiastic about being a Florida Gator. Why did you choose Florida? What makes you the most excited about the University of Florida?
Because of Coach Donovan.  He thinks outside of the box. He will allow you to play on the perimeter if you have good offensive skills,  and even if you are 6'10 like myself and Chandler Parsons.  The assistant coaches were fantastic and now the newest coaches are unbelievably great.   I like the winning tradition that the school has developed.  The weather is a nice, of course. During my visit there to campus,  everything felt right between myself, the players on the team, administrative staff, and the student body. I just knew this was  the school for me.  [As for excitement] Just being a Florida Gator.   It means a family of winners and it's fantastic to be able to play for a future hall of fame coach who will guide us to another Championship!
You can play four positions but where do you think you are the most comfortable and dangerous playing?
The wing position, because it will create mismatches for whoever guards me.
Lots of Gator Greats have gone to the league under Donovan (Mike Miller, Haslem, Speights, Bonner, Horford, Noah, etc.)…who's game do you think yours most resembles or who would you like to emulate?

I would say that my game is outside-inside. You can say, that I would be a blend of all those guys together.  Coaches tell me that I am a hybrid forward or a point forward.
It's been reported that you are having to go through the NCAA Clearinghouse.  How confident are you that you will come out on the right end of that process?
I am very confident.
Your hometown is Grand Rapids, but you played last season in East Lansing. What are you most looking forward to about living in the state of Florida? Are you going to miss the snow in the winters?
Looking forward to the warm weather in the winter and the great food that's in the "Sunshine" state. I probably will miss the  first snow fall, but soon those feelings will "melt" away.
Have you met Brad Beal yet? If so, did you feel there was any chemistry between you two already? What do you think of Beal's game and are you excited to play with him?
No we haven't met personally,  but we have exchanged texts. I think his game is fantastic. He will add a great scoring punch; he attacks the rim very good and can shoot the lights out of the ball.
A lot of scouting reports have your weight listed as 210Lbs. Have you already started working toward adding some weight? If so, what is your weight at now?
I am  currently 215 and involved in a strength and speed training program. I have a large frame that can easily handle more weight.
When are you moving to Gainesville?
As soon as possible.   Summer B is scheduled to begin June 27th.
What should Gator Nation know about you?
I have an outgoing personality that comes with a wide range of interest, and I am blessed to be a versatile player who can play four positions. I have the will to win and most importantly I bring my lunch bucket to work everyday. Go Gators.
He sounds like a Billy Donovan guy doesn't he?  Catch Walter Pitchford (@walterp35) and Bourbon Meyer (@bourbonmeyer) on Twitter.