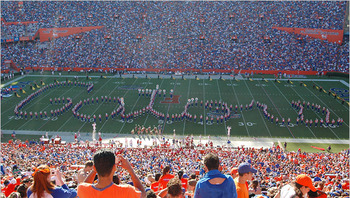 The University of Florida has an amazing opportunity.  The Pride of the Sunshine Marching Band has been invited to help "kickoff" the opening ceremonies of the 2012 Summer Olympics in London, England. The band is already preparing for the show which will cover classics both from the United States and Great Britain (think Beatles).  The band has had one practice with many more scheduled before departure. But don't think that the preparation has just started.  Having received the invite last year band leadership knew the largest hurdle to over come for the trip would not be the music but cost. The overall cost of the trip approaches a million dollars and individual band members are being asked to pay just over $4,000 a piece to attend.  Why so costly? Think buses to and from the airport, instrument transportation, multiple planes, hotels, etc.
It's an enormous opportunity (Hey FSU, what's your band doing this summer?) but it does have some significant economic cost.
If you want to help you can. Donations can be made via the University's Website. Here are a few more details about the trip….
Practicing over 35 musical pieces for the various performances
The trip will last just over a week from July 23 to 31st; likely with only one free day for sightseeing
The band will depart from Orlando and land in London
Just to get you into the mood.  Here is the Pride of the Sunshine's 2012 performance at the Gator Bowl (By the way…We totally own the buckeyes)… GO GATORS!!!